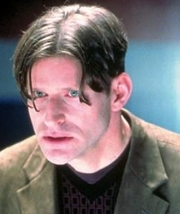 Stan Bittleman
is the main antagonist in the film,
Like Mike
. He was portrayed by Crispin Glover.
Biography
Edit
Bittleman was the greedy (later cruel) head of the orphange, signed a contract with the Knights to cash in all of Calvin's money until he is eighteen, or adopted. Bittleman then bets $100,000 that the Knights will lose the game as Bittleman steals the sneakers and locks them in his safe, but are later collected by Ox. It was revealed that Bittleman is missing because he didn't have enough money to pay up for the bet.